ArcelorMittal Gijón plant is located in the Asturias region in north-west Spain in a strategic location with port services close to the factory.
The Gijón site consists of a steel plant with two oxygen converters, secondary metallurgy (including two ladle furnaces and an RH degasser), a bloom caster and a billet caster, as well as a wire rod mill and a rail mill.
The site produces high quality wire rod for the most demanding applications (steelcord, cold heading applications, springs for shock absorbers, etc.).
Gijón is the only Spanish producer of high-speed rail and head hardened rail. Both products are subject to the most stringent quality and reliability requirements.

Facilities
Upstream:
Coke oven
Sintering plant
Blast furnace
Steel plant:
Oxygen converter
RH degassing
2 ladle furnaces
Kiss system to avoid slag carryover from the ladle to the tundish
6-strand billet caster
Wire rod rolling mill:
High speed 2-strand
32 stands including pre block and reducing sizing mill
Zumbach Gauge monitoring (rod tolerance and ovality control)
Eddy current equipment for surface control of defects along the coil length
Wire rod processing:
Annealing, pickling, phosphating (upon request)
Casted semis
Billets (mm2): ■ 150; length (m): 15 (<15m on request)
Finished products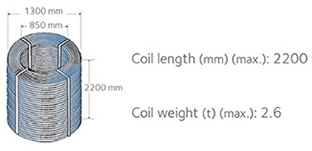 Markets