ArcelorMittal Gandrange plant is located in the Lorraine region in north-east France.
The production facilities of Gandrange consist of a hot rolling mill producing bars and wire rod (round and hexagon) in a wide range of grades and dimensions.
This combined mill also has a state-of-the-art sizing block and a new integrated bar conditioning line with surface and ultrasonic testing.
Strongly positioned in the field of bar and wire rod products, the site works to develop new applications and new products for the automotive, energy and mechanical industries (forging, cold heading, bright drawing…).
The site has high flexibility in steel input with semis provided by Duisburg, Hamburg, Veriña and Warsaw.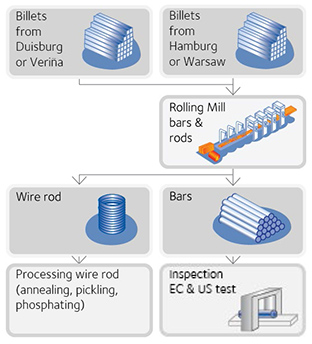 Facilities
Bar & wire rod rolling mill:
Furnace with tight temperature control
Sizing block
On-line dimensional control
On-line surface control
Garrett coiling for wire rod
Inspection line for bars:
Multi-roll straightener
Sawing and chamfering devices (45°or 60° from 0.2 to 4mm)
Surface control (Circoflux)
Ultrasonic control device
Wire rod processing (annealing, pickling, phosphating) upon request
Finished products
Wire rod (mm): ● 15 - 52 (steps of 0.1 mm)
14.3 - 42.5 (hexagons)
Bars (mm): ● 15 - 100 (steps of 0.1 mm)
14.3 -70.4 (hexagons)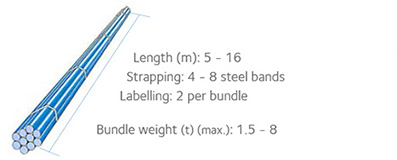 Markets