ArcelorMittal Sosnowiec plant consists of a modern wire rod mill and a profiled rod production line.
Billets sourced from the integrated plant in Dąbrowa Gornicza are subject of advanced metallurgical rooting including a ladle furnace, vacuum degassing and a continuous caster (modernised in 2013).
Sosnowiec is a leading supplier of high quality wire rod to worldwide market and has the knowledge and expertise to produce wire rod for demanding applications.
With its strong position in carbon grades including prestressed concrete, welding and cold heading quality, the site develops grades for the most demanding applications in the automotive industry.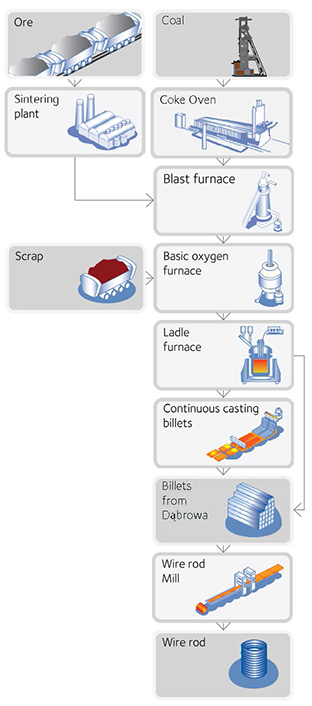 Facilities
Upstream: Dąbrowa
Coke oven
Sintering plant
Blast furnace
Steel plant: Dąbrowa
Oxygen converter
Ladle furnace
RH degassing
Wire rod rolling mill: Sosnowiec
High speed 2-strand SMS (Morgan)/Danieli WR (2006)
110 m long cooling conveyor
Casted semis
Billets (mm): █ 190 x 220; 300 x 280; 400 x 280;
length (m): 4.2 - 12
Billets (mm2): ■ 130; 140; 160; length (m): 7 - 13.5
Finished products
Wire rod (mm): ● 5.5 - 21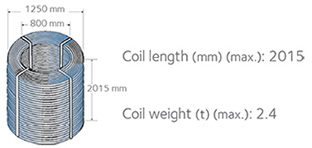 Markets