Contact us :
Installation and repair services
ArcelorMittal Bourg-en-Bresse has a deep cooperation with TEC Câbles Bourg. They ensure all implementation work, repair and maintenance of wire ropes all over the world.
TEC Câbles Bourg aims to develop specialised services for all customers based on its high reactivity, quality of service and ability to adapt to the market and all technological new developments.
TEC Câbles Bourg uses its know-how for:
Unfolding/unwinding and changing cables.
Splicing and shortening cables.
Rope operation/handling: sliding, raising carrying ropes.
Socketing.
All other cable operations: strands and/or sections replacement, repairs, etc.
Installation
In partnership with ArcelorMittal, TEC Câbles have developed specific technology to enable quicker installation of any wire rope, on both new and old installations, whilst ensuring the highest levels of safety at all times.
Caterpillar winch
Pulling/breaking winch (no twist or flexion induction compared to capstan winch)
15 tonnes capacity with safety factor of 3 (ultimate tension 45 tonnes)
High unwinding speed of 1000m/h (pulling or breaking mode)
No risk of mechanical deformation thanks to specific low pressure even at max capacity (<10 MPa). Also suitable with sheathed cables and Whisper®.
Full dashboard functionality provides live measurements ensuring complete traceability during the whole process (length, speed, pulling or holding force, pressure on the rope)
Diameter from 0 up to 80mm, stranded ropes or Full Locked Coil ropes
Design of the winch allows the pulling of wire rope that is already socketed
Full system is stand alone requiring no power or network connections
Full mobile system that can be transported in a 20' container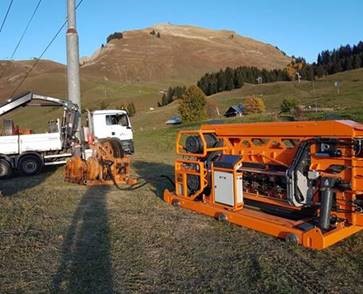 Multimodal TEC Câbles truck
The investment in a new multimodal Mecamont truck is enabling TEC Câbles to offer improved solutions and a better response to customers, even in the most extreme of environments.
25 tonnes capacity hydraulic crane
Maximum jib height of 20m
Holding capstan of 15 tonnes
Unwinding speed 1000m/h for ropes up to 50mm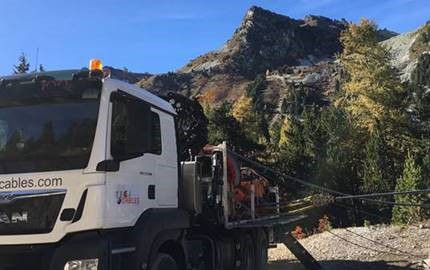 Splicing recommendations
TEC Câbles maintains a team of highly qualified engineers and splicers dedicated to installing ropes, enabling us to provide a total solution. The tools used by TEC Câbles ensure the splicing process is efficient, ergonomic and effective, resulting in extended life time of the wire rope.
Distribution wrench
Developed to facilitate and control the splicing operation, this tool provides regular distribution of the strand ensuring complete uniformity of shape and lay of all 12 spliced strands.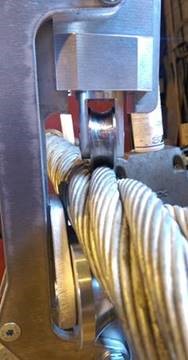 Strands equalization wheel
Performed at the end of the splicing process, the strands equalization wheel guarantees perfect angular positioning of the 6 strands on each side of the knot. This ensures no contact, and therefore no friction takes place between the strands and positively affects the longevity of the wire rope.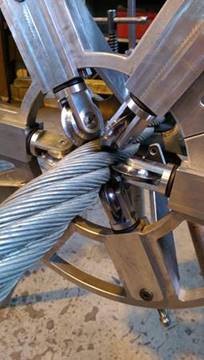 Please contact us for further information on section replacements, repairs, etc.
DOWNLOAD
our splicing recommendations CEN here >