Rope Innovations
Driving economic growth for our customers with research and innovation excellence
ArcelorMittal's research and innovation culture is dynamic, externally focused and responsive to a constantly changing world. It is aimed at harnessing the expansive resources we have across our organisation; from our diverse and highly skilled workforces to the insights, understandings and learning that we have experienced with our partners and our customers.
We are developing the capacity to deal with global challenges and we are ensuring that our innovations will have a wide-ranging positive impact on the industries we serve.
ArcelorMittal is working to the highest research standards and pursuing some bold ideas. By doing this we are driving economic growth for our customers whilst we endeavor to elevate our position as the most relevant and trusted steel wire ropes brand in the world.
Klondike®
Deep shaft mining – lasting performance
Klondike® is a hybrid rope combining fatigue proofing with compacted strand technology to create a non-rotating rope developed specifically for aggressive deep shaft mining environments.
Strong and efficient, Klondike® integrates several innovations that are key to performance, safety and longevity. The outer strand structure is highly adaptable to friction sheaves, even in the case of very difficult hoists (fleet angles or high dynamic effects) providing a low and even tread pressure on linings.
The combination of compacted strands with polypropylene and textile inserts, decrease internal stresses and improve MBL and fatigue resistant properties.
▸ Higher strength performance
▸ Low stretch, higher stability
▸ Higher fatigue performance
Properties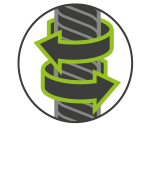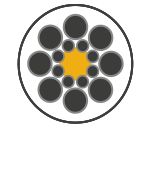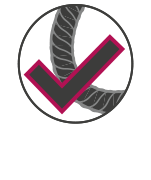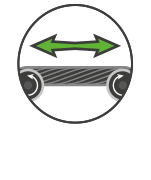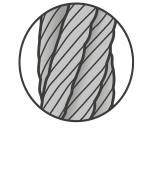 Learn more >
Whisper®
the silent rope
Transporting people – transforming tomorrow
Whisper® is a new breed of ropeway rope that reduces vibration and noise levels, optimising passenger comfort and delivering long term efficiencies.
The solid monofilament core with fins offers greater integrity and longer lasting stability. Engineered for the urban and mountain transportation of passengers, Whisper® ensures an evenly distributed interface between the outer circumference of the Whisper® rope and the operating equipment.
▸ 80% reduction in vibration and noise levels
▸ Recommended for intensive operation 24/7
▸ Long term efficiencies
▸ Suitable for urban applications
▸ Significant reduction and maintenance costs
Properties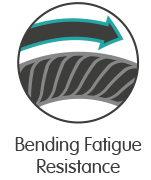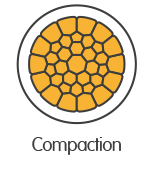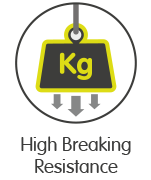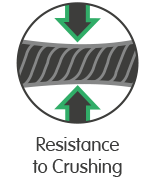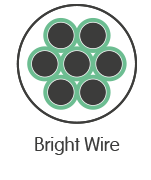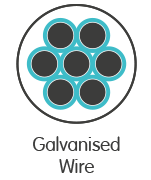 Learn more >
Full Lock Coil
Precision engineering with integrated optical fibres
ArcelorMittal ROPES has developed a Full Lock Coil (FLC) track rope with integrated fibre optics specifically for the highly demanding applications of aerial and passenger transportation.
The FLC track rope is a high strength, low stretch, stable, non-rotating rope engineered to resist wear.
The core's high fill factor guarantees shape under load, preventing abnormal wear and ensures smooth rolling and transportation whilst the integrated fibre optics cables eliminate the need for additional infrastructure for data and communications.
▸ Precision engineering
▸ High fatigue performance
▸ Long service life
▸ Cost effective
▸ Diameters: 30 to 74mm (other diameters can be manufactured on request)
Properties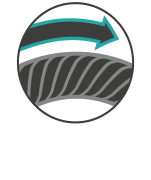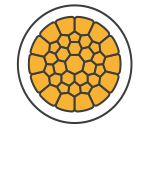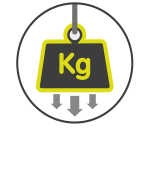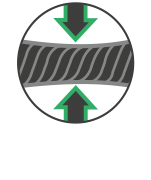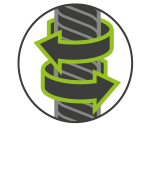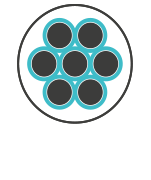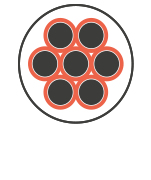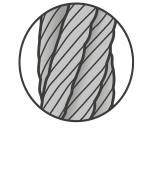 Learn more >
Sky37
High altitude – High performance
Engineered to meet the increased demand for high altitude, non-rotating hoisting applications, ArcelorMittal ROPES has developed Sky37 – the high altitude, high performance, rotation resistant rope with additional outer strands.
Sky37 is designed with 18 outer strands closed in the opposite direction to its steel core. When Sky37 is under load, the strands of the core are inclined to rotate in one direction while the outer strands are inclined to rotate in the opposite direction.
The opposing forces of Sky37's inner steel core and its 18 outer strands make it one of the most balanced, non-rotating ropes on the market, delivering superior levels of stability and operational safety at high altitude.
▸ Diameters: 12 to 66mm (other diameters can be manufactured on request)
▸ Wire classes: 1960 and 2160 MPa
Properties