ArcelorMittal Ostrava plant is located in the northeastern part of the Czech Republic. Ostrava production site consists of an integrated plant with a liquid phase (coke oven, sintering plant, blast furnace) and a steel plant.
ArcelorMittal Ostrava is the largest integrated steel company in the Czech Republic. It supplies a wide range of flat and long steel products.
The site recent investment in a large rounds enables the continuous caster n° 1 to deliver a wide range of products for pipe, forging, railway applications as well as for the production of leaf springs for the automotive industry.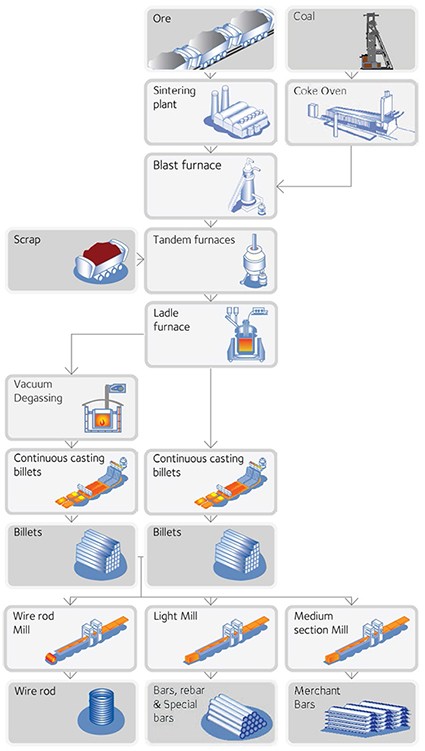 Facilities
Upstream:
Coke oven
Sintering plant
Blast furnaces
Steel plant:
Oxygen batteries
Ladle furnace
Vacuum degassing
Caster n°1: 6-strand*
Caster n°3: 6-strand**
Wire rod rolling mill:
2-strand
24 duo-stands including finishing block with 4 duo-stands
Bar rolling mills:
Light section mill: 2 strands with 29 duo-stands
Medium section mill: cross country 9 duo-stands
*including EMS; **vacuum degassing and EMS are not possible.
Casted semis
Finished products
Wire rod (mm): ● 5.5 -14
Rebar in coils (mm): ● 8 - 12
Bars (mm): ● 10 - 110; length (m): 4 - 16
Rebar (mm): ● 10 - 50; length (m): 6 - 16 (24: upon request)
Threaded bars (mm): ● 15 - 75; length (m): 6 - 16 (24: upon request)
Krybar (mm): ● 16-32; length (m): 6 - 16 (24: upon request)
Leaf spring, profile A, B, C (mm): ˜ 56 x 100; length max. (m): 14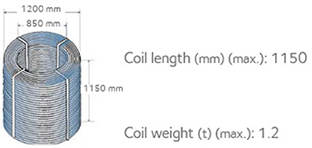 Markets